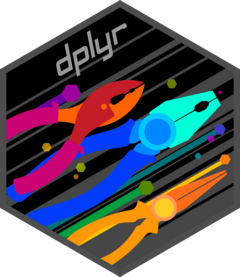 Bind multiple data frames by row
Source:
R/bind-rows.R
bind_rows.Rd
Bind any number of data frames by row, making a longer result. This is similar to do.call(rbind, dfs), but the output will contain all columns that appear in any of the inputs.
Arguments
...

Data frames to combine. Each argument can either be a data frame, a list that could be a data frame, or a list of data frames. Columns are matched by name, and any missing columns will be filled with NA.

.id

The name of an optional identifier column. Provide a string to create an output column that identifies each input. The column will use names if available, otherwise it will use positions.
Examples
df1

 

<-

 tibble

(

x 

=

 

1

:

2

, y 

=

 

letters

[

1

:

2

]

)




df2

 

<-

 tibble

(

x 

=

 

4

:

5

, z 

=

 

1

:

2

)







# You can supply individual data frames as arguments:




bind_rows

(

df1

, 

df2

)




#>

 

# A tibble: 4 × 3




#>

       x y         z


#>

   

<int>

 

<chr>

 

<int>




#>

 

1

     1 a        

NA




#>

 

2

     2 b        

NA




#>

 

3

     4 

NA

        1


#>

 

4

     5 

NA

        2





# Or a list of data frames:




bind_rows

(

list

(

df1

, 

df2

)

)




#>

 

# A tibble: 4 × 3




#>

       x y         z


#>

   

<int>

 

<chr>

 

<int>




#>

 

1

     1 a        

NA




#>

 

2

     2 b        

NA




#>

 

3

     4 

NA

        1


#>

 

4

     5 

NA

        2





# When you supply a column name with the `.id` argument, a new




# column is created to link each row to its original data frame




bind_rows

(

list

(

df1

, 

df2

)

, .id 

=

 

"id"

)




#>

 

# A tibble: 4 × 4




#>

   id        x y         z


#>

   

<chr>

 

<int>

 

<chr>

 

<int>




#>

 

1

 1         1 a        

NA




#>

 

2

 1         2 b        

NA




#>

 

3

 2         4 

NA

        1


#>

 

4

 2         5 

NA

        2


bind_rows

(

list

(

a 

=

 

df1

, b 

=

 

df2

)

, .id 

=

 

"id"

)




#>

 

# A tibble: 4 × 4




#>

   id        x y         z


#>

   

<chr>

 

<int>

 

<chr>

 

<int>




#>

 

1

 a         1 a        

NA




#>

 

2

 a         2 b        

NA




#>

 

3

 b         4 

NA

        1


#>

 

4

 b         5 

NA

        2